Downingtown Main Street Association dedicates Armor Alley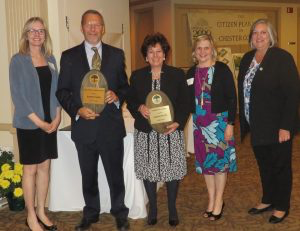 Sarah Peck Receives Citizen Planner Award from Chester County 2020.
Sarah Peck received the Chester County 2020 Citizen Planner Award on April 25 2019. The non profit organization promotes managed growth and preservation of open space through education and dialogue between Cuonty's civic, business and political leaders. Pictured above: Dorothy Ives Dewey, Chester County 2020 board member,  David Ward, Lifetime Achievement Award recipient, Sarah Peck, Judy DiFilippo, Chester County 2020 board member and Chester County Commissioner Kathi Cozzone.
Read text of Sarah Peck's acceptance speech here: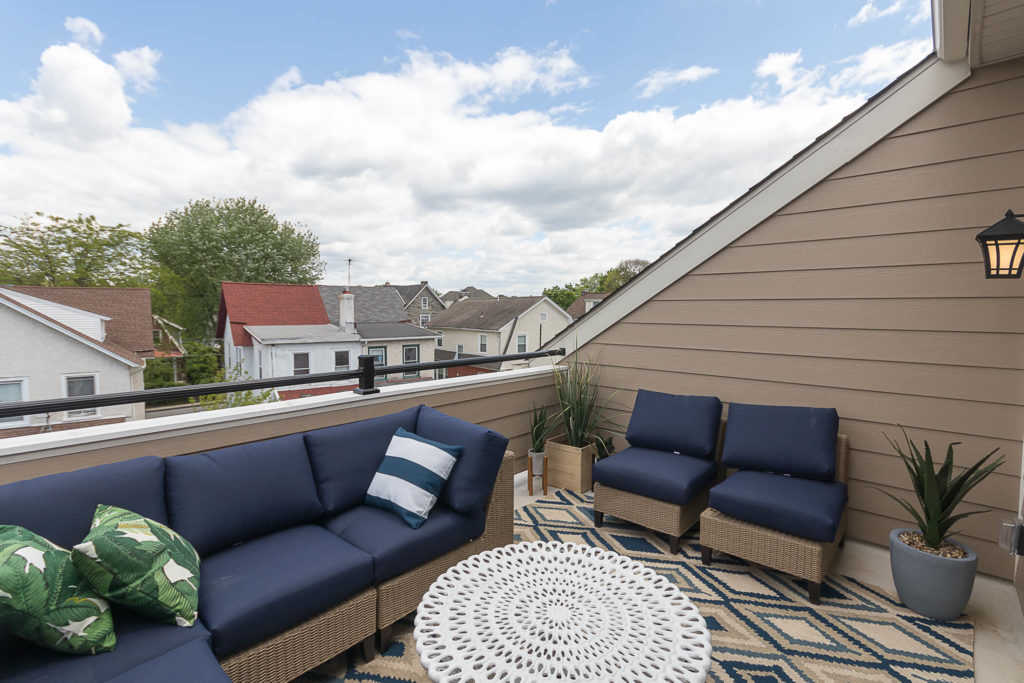 Sarah Peck quoted in New Home Source article about Infill Development.
A process that transforms once blighted areas into beautiful,  and vibrant residential  living.
Sarah Peck is in the vanguard of developing affordably priced new homes in in-fill locations around Philadelphia.  Check out her comments below showcasing how vacant or underutilized land is repurposed for today's growing market.
https://blog.newhomesource.com/ins-and-outs-of-infill-property/
Sarah Peck Builds True Neighborhoods with a Sense of Community.
Arbor Knoll community in Norristown holds ribbon-cutting.
Arbor Knoll, created on the heels of the highly successful Arbor Heights and Arbor Mews communities, plays an integral role in transforming Norristown into a thriving and desirable neighborhood in which to live, work, and play.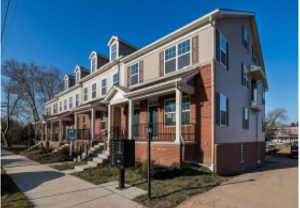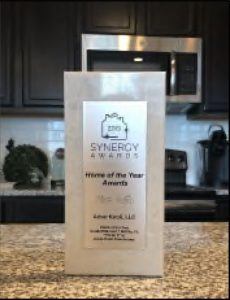 Arbor Knoll Wins Synergy Award for Best Floorplan
ARBOR KNOLL'S PORTER FLOORPLAN WINS 2019 SYNERGY AWARD FROM THE HOMEBUILDERS ASSOCIATIONS OF MONTGOMERY, BUCKS, CHESTER AND DELAWARE COUNTIES 
On April 11, 2019, at its annual Synergy Awards, the regional Homebuilders Associations awarded Arbor Knoll's Porter II floorplan with the best multifamily floorplan for its size category.
At 1692 s.f., the Porter II townhome offers tremendous value for the money. As a result of its popularity, all of the Porter II floorplans available to sell in 2018 were sold out.
The complex back-to-back design has its two-car tandem garage tucked partially under the front-facing unit's living level. The resulting higher density keeps costs down and prices more affordable. Although the home's 3 upper stories are situated behind a different home and flanked by others, a great deal of natural light floods the living spaces through oversized ceilings and tall windows with transoms in an expansive 25' wide floorplate. As a result, the home feels very private, a feeling enhanced by extensive sound separation construction details.
Outdoor living space consists of both a balcony with sliding glass door and a huge roof deck which, although optional, has been purchased by 100% of buyers.  The top floor bedroom can flex as a man-cave or family room and its optional bathroom has been purchased by all but one buyer. 
The Porter II's 4 story, vertical design offers the millennial buyer the privacy of a townhome with extensive living space in 3 bedrooms and 2.5 bathrooms. The stairs do not seem to bother this young buyer.  The majority purchasing this value-packed plan have 1 or 2 small children or are starting their families.  As a result, this is the perfect entry level starter home for a growing family.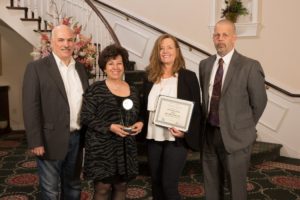 Danley Townhomes Wins the Synergy Award for 2018 Townhome Community of the Year
Gregory Wissman, AIA – architect for the project, Sarah Peck – Project Developer, Sharon Dienno- Danley Townhomes Sales Manager and Mark Schultz – Danley Townhomes construction manager. The award is presented annually by the Home Builders Associations of Montgomery, Bucks, Chester and Delaware Counties.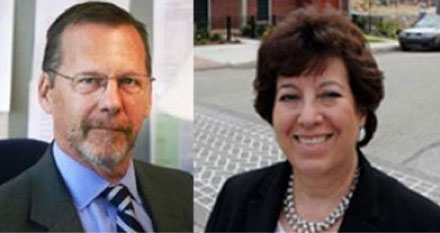 Peck, Ward to receive 2020 Citizen Planner award
MALVERN—Chester County 2020 will honor Sarah Peck, principal of Progressive New Homes and David Ward, former assistant director of the Chester County Planning Commission, during the organization's annual reception on April 25.
"Chester County is blessed to have excellent professionals planning for our county's growth and future," said John B. Hannum, Jr., Chairman of Chester County 2020. "This year our organization is honoring two outstanding planners, Sarah and David."
Peck is being given the Citizen Planner award of 2019. She is a recognized expert on infill housing development and the concept's growing acceptance in suburban communities. Peck is a former CEO of Rouse/Chamberlin Homes of Exton and co-founder of the Housing Partnership of Chester County.
Peck was named "National Builder of the Year" by Professional Builder Magazine and has served as adjunct professor of West Chester University. Progressive New Homes builds progressive, affordably-priced homes in Chester and Montgomery counties.
Ward is being given the organization's Lifetime Achievement award. He has been involved in planning for more than 40 years and retired in 2018 from Chester County's Planning Commission. Ward played a key role in developing the county's award-winning Landscapes program and managed the first revision of the plan, Landscapes 2.
Ward worked tirelessly with county municipalities during his tenure with Chester County and will continue to serve as an instructor and board member of the PA Municipal Education Institute.
The reception will take place on April 25 at the Chester Valley Golf Club, 430 Swedesford Road, Malvern. A cocktail hour will begin at 6:00 p.m. and the program will start at 7:00 p.m. For a ticket, send a check for $85 to CC2020, P. O. Box 321 Lyndell, PA 19343. To register online, go to www.CC202.org and visit the Secure Registration in the organization's safe shopping section. The online registration fee is $88. For questions, call 484-680-5570 or email info@cc2020.org.
The master of ceremonies for the event will be Ken Knickerbocker, publisher of American Community Journals, a network that includes VISTA.Today. He is a former Chester County2020 board member and a prior member of Parkesburg Borough Council.
Chester County 2020 is a non-profit organization helping to create livable communities by bringing people together to find common ground and then working to transform dialogue into action. For more information, see www.cc2020.org.
Arbor Knoll is latest Norristown project by Progressive Housing Ventures
NORRISTOWN It's easy to predict that the third time will be a charm for Progressive Housing Ventures LLC, with the renowned purveyor of innovative urban living having worked its magic twice before in Norristown.
On the heels of Arbor Heights and Arbor Mews, the company's vision of 34 "stacked" town homes, collectively known as Arbor Knoll, will soon be under construction at 1529 DeKalb St., a site that many may remember as the former home of Ersine Tennis Club, now in the last stages of demolition.
A model home will likely be ready to entice potential homeowners with its easy-living design next spring, noted Sarah Peck, founder and CEO of Malvern-based Progressive Housing Ventures.

Arbor Knoll community in Norristown holds ribbon-cutting
Arbor Knoll, created on the heels of the highly successful Arbor Heights and Arbor Mews communities, plays an integral role in transforming Norristown into a thriving and desirable neighborhood in which to live, work, and play. Read that article here.

Arbor Heights & Arbor Mews Featured in the Philadelphia Inquirer
Arbor Mews and Arbor Heights were the topic of a feature article about how these two communities of new townhomes came to be in Norristown and how they are bringing new homeowners to this walkable and affordable community. Read that article here.

Arbor Heights & Arbor Mews Featured in the Times Herald
Arbor Mews and Progressive Housing's first community in Norristown, Arbor Heights, were featured in an article in the Times Herald, Norristown's daily newspaper. Read that article here.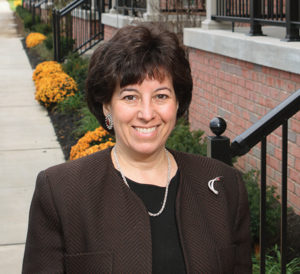 Arbor Mews and Arbor Heights leading Norristown Revitalization
Main Line Today calls Norristown a Town on the Brink citing how this municipality on the river is poised to take off as a popular place to live – and it cites Arbor Mews and Arbor Heights as part of that path to success. Read the full article here.